Should someone wish to run the authentic route for the first time, physical training is definitely not enough; mental training is just as important.
You need to run the route in your head first and not only once, but many times. You need to visualize yourself actually doing what you ought to do on the day of the event.
Visual training is not to be done at the last minute; it is something that should be done along with your daily training sessions. It will definitely take less time to do the mental race than the real thing.
So, what do I do? How do I start?
It is almost certain that most of you who go and run the authentic route for the first time, feel overwhelmed; not only with the long distance which lies ahead of you, but also for the historical significance of this very route. You have heard so much about it and seen even more while flirting with the idea of running a Marathon.
If you have been preparing yourself properly all this time, you will inevitably be in the position not only to finish this Marathon, but you will enjoy the route and the finish at the Panathenian stadium, wearing a huge smile of joy and personal triumph.
Run the route in your head!
Run each kilometer of the Authentic Marathon in the proper way.
If you want to train properly the join us! https://www.mariapolyzou.com/services/proponiseis-treximatos/
START!
Take your position at the block assigned to you by the organizers of the Marathon Race, according to your level of competence.
Your goal is to finish and enter the Panathenian stadium. Keep this thought in your head constantly … right through the race. Good Luck!
Do not forget …!!!
Follow the blue line which is marked on the road as much as you possibly can. Bear in mind that running close to the line means you will run the distance of 42.195 meters and not more! Many runners who ignore it or are not aware of this blue line on the road, finally see on their GPS watch that they hadn't run 42.195 meters, but 42.750 meters or even 43 km!!!
The Go signal is given.
Easy does it! Do not rush. Get into the right pace, based on your personal physical condition. Enjoy the route. After all, you are now becoming a part of this great history of the AUTHENTIC MARATHON.
1 – Km

The first kilometer of the route is slightly downhill. It is not visible to the eye, however, you will see and feel it in your legs. Do not be tempted. Control yourself. You will meet the 1st kilometer a short distance after the crossroads which one takes to go to the beach of Schinia.
Bear in mind that the organizers of the Marathon have seen to it that there is a sign (on the right hand side of the road) marking each kilometer all along the Marathon route and this should be considered valid, (and not any other distance markings which you may see along the road).
2 – Km
From my personal experience, I can tell you that most runners start off and run the first kilometer faster than they should. This is a major mistake and they will suffer the consequences later on. If you look at your watch and see that you are going fast, slow down and run at the pace which you had decided beforehand – when you were planning your race. The 2nd kilometer is also downhill, so things are still quite easy.
3 – Km
The route seems to be very easy and it is not seldom that your enthusiasm about running the marathon for the first time will tempt you into going faster. You believe that you feel great and this feeling will last to the end. I need to tell you to listen to your body and be conservative. You do not know what lies ahead. I hear some runners say that they will run the first 10 kilometers faster, so as to make up for the time lost on the hills; this is a huge mistake! The route, at this point, is flat and actually slightly downhill. I repeat … control yourself … save your strength…
4 – Km
Generally speaking, bear in mind that the first kilometers are flat and slightly downhill. Before the end of this kilometer, you need to go towards the left side of the road because the turn for the Tomb of Marathon lies ahead. Check your pace. I would actually recommend that you run each kilometer 5 seconds slower than you had originally planned to instead of going faster. Do not worry … the authentic route requires a clever strategy, conserving strength and excellent control of both the mind and the body.
As soon as you take the turn for the Tomb of Marathon, you will meet the 4 kilometer mark and it is a straight route. If you are not in the leading group of runners, then you will see, as you take the turn for the historical monument of the Tomb of Marathon, other runners who have already gone past the 6 kilometer sign.
It's almost certain that you will meet a familiar face running on the other side and you can greet and encourage each other along. This is a wonderful moment of the race … We all become one unit as we follow the same road. We all feel the immense effort the other is making … just as we, ourselves are. And all this … for the same purpose! To succeed in achieving our own personal goal and reach the FINISH LINE!
5 – Km
At this historic point, you will feel your soul uplifting. The memorial of the burial site of 192 Athenian Marathon-warriors along with the majestic statue of General Miltiades; this sight will give your soul strength to carry on.
At the 5th km point, be sure to step onto the special mat which has been placed there; this is the first official pace detector.
Be careful not to go past it on its side but over it, so that it can detect your pace. Otherwise, it will mean that you have never passed that point and you will be considered an invalid finisher.
At the 5th km point, you will also find the first water station. Take your water carefully and do not rush, since the road here is narrow and you will be running with many other runners.
6 – Km
Having run all the way around the Tomb of Marathon, you now run to find Marathon Avenue once again. Here you meet the 6 km sign. In the middle of the road, you will notice the specific place where the bust of Grigori Lambraki stands. You should know that the Authentic Marathon is dedicated to this great Greek Peacemaker.
Carry on now with caution.
7 – Km
You arrive at the 7th km point along Marathon Avenue. The road is flat and very easy, I'd say. At the 7,5km point, the organizers have seen to another water station for the runners. It would be wise to hydrate and take your first gel at this point. (We will cover the issue of correct nutrition for the marathoner in another article.)
8 Km
The route is flat at this point too, but not for long. In front of the entrance of the American Base at Nea Makri, we see the 8th km sign. We are already at the beginning of the route and we should still be feeling quite strong.
9 Km
Our first uphill is coming up. It is short though, so we will not feel it much. Despite this, we ought to slow down our pace, about 5 to 10 seconds per kilometer, so as not to use or burn up our glycogen at this point. You must know that from this point onwards, the hills start. It would therefore be wise not to rush, but to run conservatively because there are many more to follow; right up to the 31st km. Under no circumstances should you try to keep the same pace as you did along the flat route.
10 Km
This route is all uphill. There is a water station at this point, offering water, energy drinks, medical assistance as well as chemical toilets.
All runners should bear in mind that there are chemical toilets every 2,5km along the whole marathon route.
At this point you need to go over the special pace detector mat again. Once you see your pace, it would be wise to check if you are at the pace which you had planned to be at the start of your race – the pace you had planned beforehand. Keep this in mind … rather be behind than faster. Something you should know about the authentic route, is that it is best to have a negative pace at the half-way mark; this means that we go slow and conservatively so that we have enough energy to use after the 32nd km and right to the end of the route. The Authentic route is to be run conservatively!
11 Km – Zouberi
At this point and towards the 11th kilometer, a somewhat steep hill of approximately 10 meters, having an altitude of about 1% starts. Don't run along the side of the road but in the middle of it, otherwise your legs will hurt, particularly your shins.
12 Km
From here on and until the 31st km, you must know that you will continuously come across up-hills and slight down-hills. Keep your pace, enjoy the route and visualize your entry into the Panathenian stadium. You will make it!
Do not neglect to stop and get your water and gels. Stay hydrated at all times. At the 12.5km point, you will find the water station along with sponges and many volunteers who will be cheering you on, encouraging you to carry on with your effort.
13 Km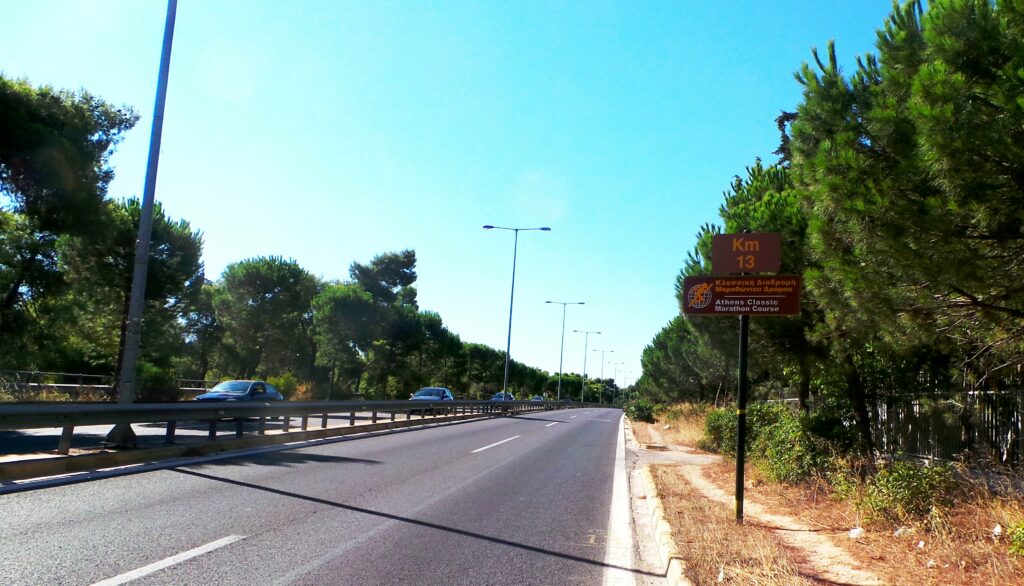 This is quite an easy kilometer. The road is flat, the landscape beautiful and peaceful – lush vegetation everywhere and at the end of this kilometer you will find a small up-hill – slight altitude – hardly noticeable.
14 Km
A small hill starts but the road is flat afterwards. Relax and enjoy the route. Keep your pace. You might feel very strong at this point and want to change your pace. Do not do it! Control yourself. Remember what we said … let the kilometers pass by and once the big down-hill starts towards the last leg of the route, you can speed up as much as you can if you want to. Look at your surroundings – left and right – keep your thoughts positive, enjoy your music if you are running with music, think of your loved ones who are waiting for you at the finish. Revel in each moment with your heart and soul.
15 Km
This is a down-hill but a small up-hill follows. Generally speaking, this is quite an easy part which you will enjoy since it is at this point where your pace will be monitored once again. This means you need to go over the rubber pace detector mat and you will have the opportunity to assess your time. Moreover, there will be lots of water, gel, bananas, medical assistance, etc.
16 Km
Here we find the longest up-hill. Relax and run as much as you can without putting too much pressure on your quadriceps. Do not run dynamically now. Slow down, lean forward and don't lift your feet too high from the ground, shuffle jog this part and it will be over before you know it. Don't go against the odds and enjoy the route, love it and become one with it. Follow the crowd – as if it were a river of runners. It's simple! We slow down along the up-hills and we try to get through them as conservatively as we possibly can, so as not to burn up our glycogen.
17 Km
You meet the 17th km sign at the top of the hill. Just think that you will soon be able to rest since a long downhill follows which will give you the opportunity to relax and regain some strength. Be careful though! Under no circumstances should you be tempted to increase your pace in order to make up for lost time. Don't do this!!! It is much too early to do so! Rest, relax and carry on your way because more up-hills are to be met along the way. Think of the 14km still to follow – up-hills mostly and slight down-hills.
Remember what we said in the beginning! The Authentic route is run with negative splits right up to half of the way. At the 17.5km point we meet the volunteers again offering us water. Be careful not to slip or trip over the water bottles on the ground left by previous runners. Run with caution past the water stations because there are so many people there, especially where the road is narrower. Just to be on the safe side, take your bottle from the table on your right-hand side and carry on running towards the left-hand side of the road. In this way you will avoid possibly slipping.
18 Km
You are closing in on the Rafina junction and the road continues to be down-hill after which a flat section follows for a while before yet another up-hill. At this point the road is quite wide and you can run in comfort. Watch out! Another up-hill is about to start.
19 Km
It is safe to say that at this point, the classic route begins, along with everything you've ever heard about the difficulty of the route. The next few kilometers are the hardest yet. You need to be patient, keep having a positive attitude and focus on yourself in order to achieve your goal. Run on the blue line so as not to cover more meters than you have to. Conserve your strength and all will go as planned. You will make it. You must be aware that another 12 kilometers of continuous hills follow.
20 Km
Arriving at the 20th kilometer, things are beginning to get quite challenging. A very long hill follows, so remember to do what we said earlier on regarding how to undertake it; shuffle jog, without raising your foot too high from the ground, tilt your body slightly forward and don't add pressure to your legs. At this point, there is another water station with water, gels, bananas, etc.
21 Km
The road is slightly up-hill and you will soon be going past the half-way point of the route. The countdown will soon start. Assess your half-way pass, if you have been going faster than you had planned in your strategy, it would be a good idea to slow down a bit now. On the other hand, if you are behind, do not worry and do not be disappointed! What's important – is to finish! As you go through the centre of Pikermi, you will notice the statue of the Marathon-runner on your left. Moreover, there are so many people gathered, waiting to applaud and cheer you on – encourage you to keep it up. Enjoy the race! Never be discouraged or lose faith.
22 Km
This is all up-hill. Proceed with caution. Let the kilometers flow beneath your feet. Remember what we said about not losing faith – keep your morale to a PEAK!!! At the 22.5km water station, take your water and carry on. You have already done half the route and counting backwards!!!
23 Km
The incline continues and it is certain that the ongoing up-hill, for so many kilometers is wearing you down and you feel the impact of it on your body. If you have been taking your gels right from the beginning of the race and drinking a lot of water, you will manage to maintain your glycogen to a good level.
24 Km
You have reached one of the most significant parts of the race. It is now that you have to show consistency and patience. Keep your spirit high and don't be discouraged by any means whatsoever. Think only of your goal!
25 Km
Things are now really and truly tough! It is not only the kilometers you have covered, but mostly the fact that your glycogen reserves in your muscles have diminished. This is why you should run very conservatively and be consistent. Don't miss taking your gels at the water station which you will go past now. And don't forget to step onto the pace-detector mat either.
26 Km
Keep in mind that the biggest hill is still to be met – it is between the 30th and the 31st km points. Of course there are many more hills to climb, but none have a great incline. So, have courage…
27 Km
Just think that now all that is left are 15km. Think of how many times you actually did such a training session and remember how quickly you covered this distance. Discover small tricks which actually serve to trick our minds and do not think of the distance you have already covered, but focus only on what's left to do still. Psychologically and mentally it tires you more if you focus on what you have already covered whilst the latter helps immensely and makes the rest of the way easier to tackle.
Remember! This is a marathon we're running…. this is no easy thing to do. But, under no circumstances must you feel psychological fatigue, and never allow negative thoughts into your head.
28 Km
I'd say, the area of Gerakas is comparatively quite an easy part to go through. It is almost flat and we are already preparing to enter the last difficult part of the race. Keep your strength. Those of you who had managed to run conservatively, will realize how doing so has benefited you. You will feel it at this point of the race. A small hill awaits you – climb it with a smile!
29 Km
You are almost about to go over the Attiki motorway. Think positive. The secret to running the authentic marathon is to always keep your spirit high!!!
30 Km – Stavros Agias Paraskevis
You have succeeded in reaching a very significant point of the race. The change of the km sign will mean a great deal to you. Now, think that all you have left is a mere 12 kilometers. It's nothing! Especially if you keep in mind that it is all down-hill.
There is a long water station at this point and you are now ready to go through Stavro Agias Paraskevis (the Cross of St. Paraskevi) I'd say that by now you will feel that you are carrying your own cross!!! After this hill, however, you will have a sense of your own spiritual resurrection.
31 Km
The 31st km has a steep incline. The fact that you have already been on the road, running for so long, has taken your glycogen levels to a minimum; actually there is none left. As you climb this last but challenging hill, you will feel your legs giving in. Despite this, I'd suggest that, if you are really feeling too exhausted to run up this hill, don't think it is something to be ashamed of if you walked it. Once you reach the top of it, you can start running again. I truly believe that it is at this point of the route that both your body and your soul are being challenged more than ever; this is the real beginning of the Marathon. While you take on the rest of the distance, you will realize what you are truly made of.
It is somewhere around this leg of the route when many marathoners start thinking and talking to themselves, saying, "what on earth was I thinking when I took this on? I will never, ever do this again."
Believe me… the minute you succeed in completing this marathon, all these thoughts will change and you will soon be setting new goals.
32Km – Agia Paraskevi
You have now already successfully passed the 31st km point and the down-hill has started. Don't rush yet, into changing your pace and going faster to make up for time lost going up-hill.
Take it easy for the first 500 meters of this kilometer so as to allow your legs to get accustomed to the down-hill. Bear in mind that this is a long down-hill, but your legs have suffered so much, hitting the ground for such a long time that they are now really hurting a lot – more than ever. Run carefully, you're almost there!
33Km
It is my belief that, from here on and since fewer than 10 km are left to go now, your spirits must be starting to lift, however, your body is not; it feels so heavy. It must never cross your mind now that you are unable to make it to the end. From this point onwards, it is only your spirit that will give you the strength you need to complete the last leg of the route. Remember to hydrate at all water stations.
The more water you drink, the better your muscles will feel and it will help you not slow down. The rest of the route is all downhill.
34Km
Throughout the remaining kilometers, the route is your ally. The down-hill incline will help you cover the distance easily and will bring you closer to the finish line.
35Km
You will meet a long water station at the 35th km point. Take water, gels, bananas and whatever you believe you need at the time in order to regain your strength. There are only 7 km left. Enjoy it. Now you know that you are capable of completing this marathon successfully.
36 Km
You are at the Pentagon and the road is still down-hill. Easy stuff! Concentrate and carry on running the last leg of the route with caution and self-confidence. Those of you who wish to make a better time, this is a good point to change your pace and go faster. You will manage. Otherwise, just keep to the pace as you are running and carry on without pushing yourself too hard.
37 Km
You now have only 5km to go. At this point you will see the road sign saying ATHENS and this confirms your entry to the Municipality of Athens! You will go under the bridge at the height of the Katehaki crossroads. There is nothing stopping you now. A group of drummers on the side of the road will enhance your effort and give you strength. Don't neglect to get your water from the water station at the 37.5km point. You must follow hydration rules religiously – right up to the very last kilometer. You reach Errikos Dynan hospital and carry on to the left along Mihalakopoulou Avenue.
38 Km
You are only 2km away from the 40km sign. It is a fact that all marathoners can't wait to reach this point and sigh with relief. They feel they have got rid of their stress of whether they can do it or not.
39 Km
One last up-hill – the one of Phidipides street remains and then down-hill you go again. Just a short distance to go before you reach the central avenue of Vasilis Sofias and you meet the 39 km sign.
40 Km
It's just unbelievable! You're almost there. You feel as if you can already hear the cheering and applause of the people and your own friends and family waiting for you at the Panathenian stadium. You go past the American Embassy and the Athens Concert Hall. Take your water from the water station. Drink your water, splash some on your face and wipe yourself dry. Your marathon is almost over. The last 2km follow – the last 2 km of your own personal triumph. Revel in it!
41 Km
You go past the Runner – now you're headed towards Vasilis Sofias Avenue. In a short while, on your left, you will see the War Museum. The route is flat.
42 Km
You reach Irodou Attikou. This is the great moment you have been waiting for. The road has a steep down-hill incline and this helps you run faster than ever. Enjoy you moment. Only a few meters stand between you and your triumphant entrance into the majestic Panathenian stadium!
You can cry, you can laugh … you will feel a massive turmoil of strong emotions; you may never have felt like this before in your life. Greet the people who are cheering for you and believe me, at this moment as you are running into the stadium, you actually feel you are … flying to the finish line … the finish line of YOUR OWN PERSONAL FEAT!!!
You've made it!
Nothing is impossible! Congratulations!
Maria Polyzou